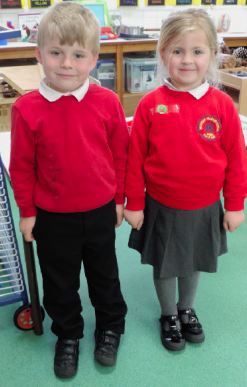 We like all our children to look smart at school, and to take pride in their appearance. Our uniform consists of a red sweatshirt or cardigan, grey trousers, shorts, skirt or pinafore, and white or red polo top or shirt. We expect all children to wear appropriate black school shoes, or all black trainers. This means no heels, and shoes that don't fall off when running around the playground. Colourful trainers or open-toed sandals are **not** appropriate for everyday wear at school.

Girls should have long hair tied up at all times, not just for PE sessions. If they wish to wear bows, clips or ribbons they can, but these may need removing for PE.
PE kit consists of black shorts, and a T - shirt in the colour of your child's house team.
Printed PE T-shirts, embroidered sweatshirt and cardigans, and school fleece tops can be ordered via the office.
Your child also needs a book bag in school for bringing home reading books, home learning books and notes or letters. It is not necessary to bring a huge bag to school every day!
**PLEASE NOTE** that the only items of jewellery that are allowed to be worn in school are stud style earrings, and a watch.
Our Uniform information above goes into further detail and uniforms can be purchased through our office by emailing Mrs Brookman.